There's a fantastic bike trail you want to try, but it's too far to ride there from your home. That's where your car and a good bike rack come in handy. A car bike rack can be an excellent piece of equipment to add to your cycling gear. It can free up more vehicle space and allow you to take your bike to more cool places.
How much do car bike racks cost? Prices for bike racks range from $50 to over $800. While bike racks vary in function and appearance, most of them tend to work in comparable ways. No matter your budget or preferred riding style, you should be able to find a car bike rack to fit your needs.
If you're still reading this, you probably know that transporting your bike means more than just tossing your bike in the back of your car or truck. The right kind of rack can prevent damage to both your bike and vehicle, which will give you peace of mind as you drive down the road. Read on to learn about the cost and features of each type of car bike rack.
Types of Car Bike Racks
If your car, SUV, minivan, or truck already has a trailer hitch, consider getting a hitch rack, which costs between $60 and 800. This rack slides into a hitch receiver, which you might need to add. One advantage of a hitch rack is that the mount is secure. However, the nicer ones can get expensive. Also, if you're driving on varied terrain, the bottom of the rack can hit the road.
One type of hitch rack is the platform hitch rack, which has trays where the wheels go. These racks typically run from less than $90 to more than $800. Most platform hitch racks accommodate two bikes, but you can add extensions for one or two additional bikes. These racks are suitable for a wide variety of bike frames, and they can even handle some electric bikes.
Another option is a hanging hitch rack, which has a mast with arms that hold bikes by their frame. These typically cost as low as $60, but can also carry a price of $600 or more. Hanging racks are more compact and can carry up to four to five bikes. A disadvantage, however, is that they don't accommodate as many different bike sizes.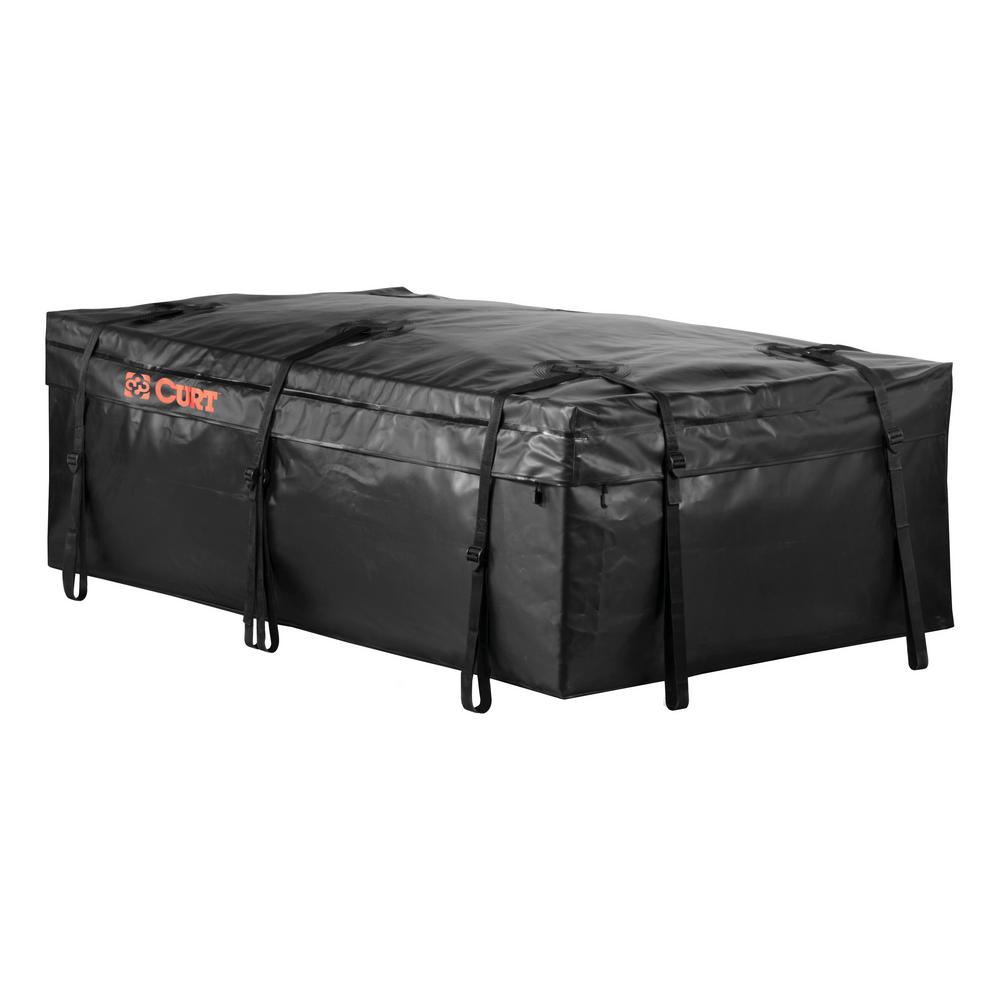 Rooftop racks range in price from $120 to over $400, and they're great for larger vehicles. These racks are also customizable to handle other outdoor equipment, such as kayaks, skis, surfboards, or cargo boxes. One disadvantage for some people is having to lift a bike overhead for mounting. You also have to watch out when driving under low-clearance ceilings or garages.
If you have limited space in your car and not as much money to spend, consider a rooftop cargo bag. This bag is collapsable and can hold other gear besides a bike. Don't expect to pay more than $170 for one, but be prepared to disassemble your bike for loading. The low cost is also because of the rack's lack of durability. However, most bags don't require a roof rack to go on top of the car.
If you have a spare tire hanging on the back of your car, take advantage of it. Spare tire racks are lightweight, carry one to two bikes, and are affordable, costing between $120-200. This rack bolts directly to the spare tire, adding to its function of locking the tire to the car. While this rack is typically inexpensive, it doesn't fit on many contemporary car models.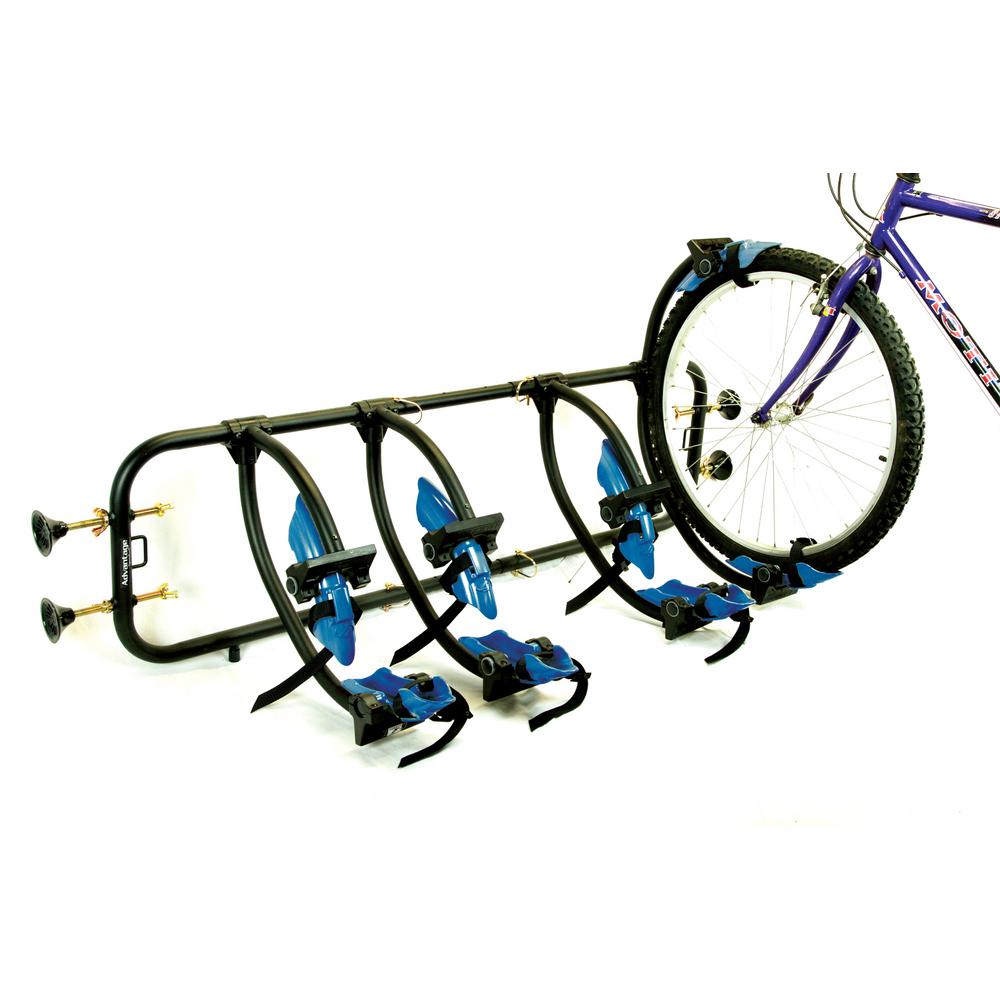 Many pickup truck owners happen to be cyclists, too. If you have a truck, you might be interested in an inside-the-bed truck rack like this, which includes support bars, mounts, or rails that you can temporarily install in the truck bed. The cost ranges from $120 to $200 for most of these bike racks, making them relatively affordable. However, this set-up does take up valuable space in the truck bed.
Other pickup owners might prefer a tailgate truck rack. If climbing in and out of the truck bed doesn't appeal to you, this might be the better option. If you get a rack that allows you to hang the front wheel of a mountain bike over the tailgate, you'll need a tailgate pad, which might not provide the best protection to the bike. Another downside is that this rack doesn't allow you to lock the bike to your truck.
Most trunk racks cost less than $200 and work especially well for compact cars. This rack uses straps to stabilize the bike frame and attaches to the trunk, rear bumper, or hatchback. Trunk racks don't stick too far out from the back of the vehicle, and they're easy to attach and remove. However, these racks make it hard to access the trunk, and the bikes might sway a bit while you're driving.
What to Know When Choosing a Bike Rack for Your Car
Do you have your vehicle owner's manual? It's always a good idea to consult the manual before you choose a bike rack, especially if it's one you have to install on the roof. Find out how much extra weight your car can withstand. Know your vehicle's towing capacity if you want a hitch rack. Regardless of the rack, make sure your car's rear lights and license plate are in full view.
What are your vehicle's make, model, and year? Not all bike racks fit all vehicles. The type of vehicle–van, sedan, pickup truck, or SUV–will determine which car bike racks will work. Keep in mind that the bike rack warranty might not be valid if you use it with the wrong type of vehicle. Check the manufacturer's guidelines for fit and proper assembly.
What components does your vehicle already have? Don't buy a bike rack without having the right equipment, such as a trailer hitch in back or crossbars across the roof. If the bike rack doesn't have a built-in lock, make sure you keep a bike lock in your vehicle. Even if your car has the right components, they need to be the right size and type to fit your bike rack.
Your vehicle shouldn't be the only thing you check for fit. Make sure your bike fits the bike rack as well. Not all bike frames accommodate a rack's cradles. If you already bought a bike rack you don't want to return, get some tube adapters, which might allow you to make the necessary adjustments for adequately loading your bike.
Related Questions
How do I secure my bike after I load it on the bike rack?
If the bike is on a hanging rack, you'll need to secure the tires so that they don't spin when you're zooming down the road. Also, keep the bike from swaying and bumping against the vehicle or another bicycle. If you don't have cords or straps, use some old cut-up bike tubes, which make great ties.
How many bikes can I put on my car bike rack?
That depends on the type of bike rack and the size of your vehicle. For example, most platform hitch racks carry two to four bikes. Hanging hitch racks or inside-the-bed truck racks can accommodate up to five or six. Do not cut corners by using bungee cords or duct tape to try to fit more bikes; this will only increase the likelihood of damage.
What kind of bike can I put on a rack?
There's a car bike rack for every bike. However, some racks work better than others for keeping your bike stable and safe. Note the thickness and style of your bike's frame, and then do a little research to figure out which racks work the best. For example, if your bike frame is on the thick side, it might fit best on a platform hitch rack.
Can a car bike rack prevent bike theft?
Not always. Don't assume that all car bike racks have locking mechanisms. Many hitch, truck, and roof racks have a lock for the bike, and they lock to the vehicle as well. Nevertheless, check the specifications on the rack you want to buy. For other types of bike racks, you can use a separate lock to secure the bike to the rack.
See also: 6 Best Bike Locks That Can't Be Cut
Are there any types of car bike racks I should avoid altogether?
Not really, because each type of rack has its advantages and disadvantages. Whereas roof racks tend to be more versatile and sturdy, trunk racks are less expensive and easier to load. No bike rack is terrible as long as it meets your needs and doesn't cause damage.
Do I have to remove the wheels before loading my bike on a rack?
Some racks, such as the trunk rack, don't require you to remove either wheel. However, a roof rack might have a mount for the front fork, which makes it necessary to remove the front wheel.
Does tire size matter when choosing a bike rack?
Tire size can make a difference, especially if you get a rack that has platforms or cradles for your wheels. The trays on some of the platform hitch racks are designed for wider tires, but it doesn't hurt to check the bike rack's specifications to get the best fit.
See Also:
How Much Does a Bike Tire Cost
9 Best Bike Rack for Prius
10 Best Bike Racks For Subaru Outback
8 Best Bike Racks for the Mini Cooper